And I know the one I'm looking forward too the most is the new Wide Awake Press book Pildown. The WAP book last year was easily my favorite of the bunch (and I'm not saying that just because I was in it!) It was like 40 pages long and had a bunch of seriously good stuff in it. Actually you can still download for free here
But this year's book is Shrouded in mystery. All I've found is this info: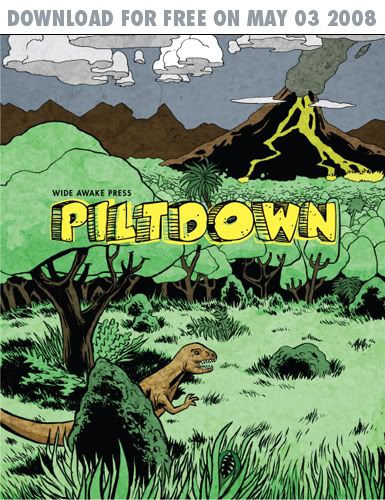 Free comic download: PILTDOWN
Wide Awake Press follows up last year's successful download comic EATS with an anthology of prehistoric tales. Go to wideawakepress.com on May 3 and download the FREE comic PILTDOWN. Join us on our journey back in time and see what stories surface when artists draw upon their inner cro-magnon. Dinosaurs, Cavemen and all types of prehistoric beasts gather together for you to discover.
DOWNLOAD IT FOR FREE ON MAY 3RD FREE COMIC BOOK DAY!
J Chris is keeping tight lipped about who's going to be in it this year, so he must have some sort of super secret super star up his sleeve or something.
I think I like FCBD more and more each year!